Room 50 is an adventure game, escape the mystery and solve the case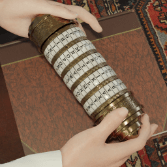 one morning, a sudden visit. "An elderly couple is waiting for you at the entrance," says Martha.
Bad news, the couple's daughter is missing, they beg you to help find her, they are desperate.
A dense mystery hides behind this disappearance. Whoever kidnapped the girl left a strange wooden box, you have to be able to open it, you have to unravel the mystery.
Start the adventure!